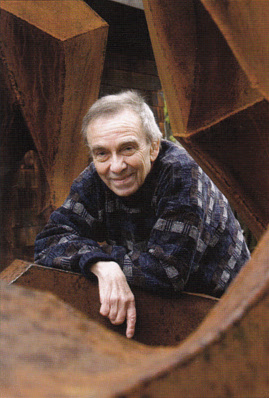 About the Artist
I'm attracted to asymmetry. Life is not predictable.
—Robert Blood
A prolific artist with an intense energy, Robert Blood's career has spanned more than half a century. He has created a diverse body of work, both figurative and abstract. Blood's large abstract sculptures defy easy description. They use Cor-Ten sheet metal in a full-volumed way, with a generally curving sense of lightness to the lines. Shapes wrap around each other in space, extending six to ten feet high and as wide as 18 feet. They change aspect with every small move of the head, and by walking all around one you get an endless scan of spatial variation based on just one unmoving object. "I want my pieces to be space embracing, not space displacing", Blood has said.
Since the age of five Robert Blood has been enamored with clay, preferring Plasticine to toys. He attended the Pennsylvania Academy of Fine Arts as a young man where he learned a love of the figure and had his first experience working with live models. However, he had no exposure there to abstract art, which was to become the most dominant aspect of his work. After his work at the Pennsylvania Academy of Fine Arts, Blood and his wife spent a period of time in New York City creating metal jewelry.
Blood then returned to his hometown of Schenectady, the home of GE's gigantic turbines, where he learned to weld and was inspired to build soaring, triumphant sculptures of huge sheets of Cor-Ten steel, artfully welded with skillful beading that reflected his craft as a jeweler. Unlike many sculptors in metal who grind off the welded bead, Blood retains his refined bead. He speaks of it as "his signature." Blood accepted an artist in residence position with the Schenectady Museum where he worked as a teacher and as an artist-in-residence for seven years. In his museum studio he began getting multiple commissions to design and construct his abstract and figurative sculptures.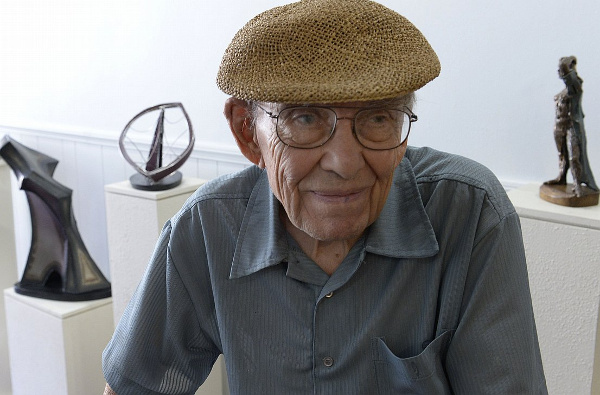 Most known for his large abstract pieces, Blood's art never left the human figure for long. The importance of using a model was instilled in him by his teachers, Harry Rosin and Walker Hancock, during his student days at the Pennsylvania Academy of the Fine Arts. Blood has remarked, "I adore the female figure. My work on the female form is the yin to the yang of my abstract pieces. One side energizes ideas about the other." Local art critic Peg Churchill Wright notes, "Blood's sculptures have evolved from his work with the female figure. The grace and the soft curves remain, but there is also an angularity which plays upon the fluidity unexpectedly."
Over the decades Robert Blood's work has captured our attention, won awards, and attracted critical acclaim. Michael Richman, Director of the School of Art and History, College of Liberal Studies, Oklahoma, draws attention to the fundamentals of abstraction "that command attention (in Blood's work)—balance, silhouette, contour and shape. Blood's creative energy is anchored in identifying, addressing and resolving these fundamentals."
Blood's work resonates with a unifying spirit and presence of humanism. His "direct humanistic themes are a bracing attempt to find universal truth through personal expression. And these ideas, rather than feeling antiquated, have a new pertinence in a war-ridden globe," writes William Jaeger. Robert Blood's sculpture has been collected by private individuals, architects, and corporations, and his work is seen in a variety of public settings as well. Privately collected pieces can be seen locally all over the Capital District, in Lake George, and in Manhattan, at the lobby of J.P. Morgan Chase. Public works include sculptures for seven area churches and synagogues, also for schools, including the Albany Law School, Saratoga Springs Harness Race Track, three Jewish Community Centers, and the Schenectady Museum.
"In his art Robert Blood is a universal man, creating with the same devotion either a menorah or a crucifix, a human figure or an abstraction of the concepts of which the human mind and soul is capable—cunningly contrived, exquisitely formed, yet transcending materials and tools and craftsmanship to emerge as a paean to both man and his spirit."
| | |
| --- | --- |
| — | Duane LaFleche. Albany League of Arts Award for Individual Artistic Excellence, 1985 |